In just a few months, Midea Digital Technology "Smart" Multiple New Products Shine at the 2016 Shanghai Lighting and Audio Exhibition
After the Guangzhou Light and Sound Exhibition, the research and development team of Belle Sound has developed many new products in just a few months: a new generation of live performance digital Mixing console, radio and television grade ear amplifiers/voice amplifiers/sound cards, 4-channel Dante, 64 channel Dante, portable sound cards, DSP processors, signal isolators/distributors, etc.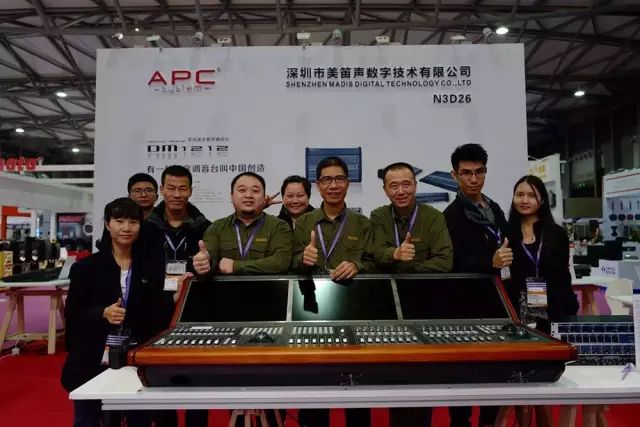 During the exhibition, a large number of professional visitors came to the booth, including leaders of peer companies, experts, and industry leaders, and received focused reports from mainstream media such as the official media of Shanghai Light and Sound Exhibition, CA001, HC360, WORLDSHOW, and others. Among them, teacher Hu Zhongming gave affirmation and encouragement to the products of Meidisheng, and gave encouragement and support in spirit and action to enterprises that adhere to the creation and promotion of national brands in China to a certain extent. Looking forward to the future, Midea Sound will persistently follow the path of sustainable development, set an example for the industry, continuously innovate, and take "foreign manufacturing" to the next level of "Chinese innovation". Create Weather vane for industrial upgrading.
Song Ge, a veteran sound engineer, has long been deeply concerned about innovation and enterprises that adhere to independent research and development. At this exhibition, Song Ge visited Midi Sound and provided detailed inquiries and suggestions on the new products developed by Midi Sound in terms of functionality and technology. At this stage, the next focus of Midi Sound will shift from research and development to refinement. Let major regional agents and their subordinate distributors feel the more rigorous and humanized design of Midea products, allowing end users to have and enjoy a better user experience.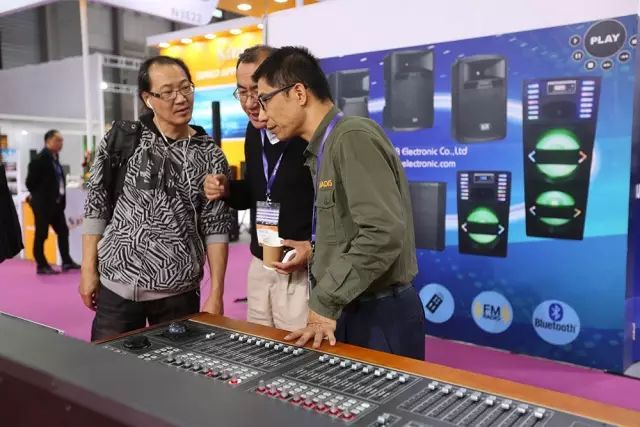 The multifunctional digital console independently developed by Midea Sound, which integrates audio, video, and lighting synchronization control, is undoubtedly the highlight of every lighting and audio exhibition. One device can complete the work of the original three devices, making it the world's first multifunctional digital console. Its successful development is equivalent to the value of the audio industry's "two bombs and one star". Famous musician Mr. Cao Jun, along with Cui Jian, was one of the earliest rock musicians in China and had extensive recording experience. During this visit to Midea Sound, my evaluation of this digital console is: "Creatively integrating the three departments into one is of great significance for coordinating and improving work efficiency among departments. As long as we find an innovative breakthrough point, we can definitely achieve great results
This exhibition has received a lot of affirmation and support from all parties, and cannot be presented one by one here. Thank you for your understanding.
After this Shanghai Light and Sound Exhibition, the values and brand values of Meidi Sound have been affirmed and recognized by all parties, and the development direction, market positioning, Marketing strategy and future control of Meidi Sound have been confirmed.
During the exhibition, both customers and companies that have established strategic partnerships with Midea Sound benefited greatly, especially in terms of values and brand values, which were highly recognized. The new products exhibited this time have been favored by friends both domestically and internationally, and some of them have already signed authorized agency and distribution contracts with domestic and foreign customers. We have had specific discussions and reached a consensus on details such as cooperation agreements, market trends, and supporting services.
In front of us, the internal team of the company has developed a series of strategies and supporting services that are conducive to its sustainable development and market promotion, focusing on strategic partners, agents, and distributors. This has enabled customers to have the ability to "allocate thousands of dollars in four or two" and experience the strength and thoughtfulness of Meidi Sound!
Looking forward to the future, Midea Sound will always maintain a sense of crisis, responsibility, innovation spirit, insight into future market trends, execute the current situation well, be good at discovering business opportunities, creating business opportunities, and seizing business opportunities. Always stay at the forefront of technology and the market!

Below, let's take a picture and revisit the live situation of the booth: